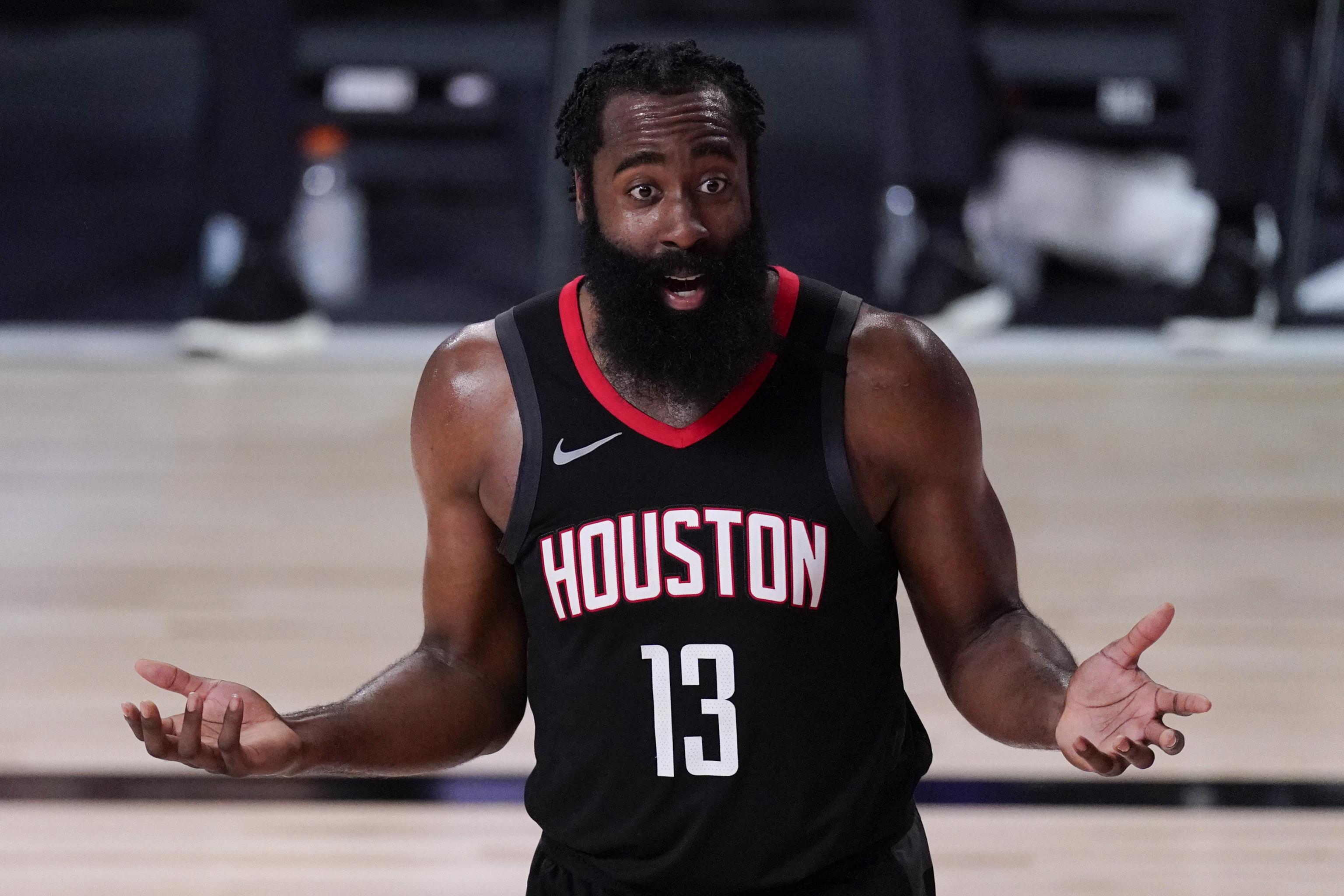 As the NBA season is about to get underway, James Harden has been making it known publicly that he is not happy in Houston and would like to be traded away, preferably to either the Brooklyn Nets, Philadelphia 76ers, Milwaukee Bucks, or Miami Heat. The problem that Harden faces is that he does not have any leverage considering that he still has two years remaining on his contract so Houston does not have to be in any rush to try to find a trade partner for him. In fact, Houston should let the situation play itself out during the first couple of weeks of the regular season and take their time to find the best package that works for them, not for James Harden.  Let's take a look at some of the teams that have been mentioned as trade possibilities and which one makes the most sense. 
Brooklyn Nets – The Brooklyn Nets are reportedly at the top of Harden's list as his preferred trade destination. The Nets are unlikely to acquire Harden because they do not have as many attractive players (other than Kryie Irving and Kevin Durant, who they will not trade) that would move the needle for Houston compared to other teams that are interested. The other dilemma that Nets' General Manager Sean Marks faces is, do you throw away your future and trade away all of your draft picks for a player that you might have for only two years if you have not been told that Harden would sign a long-term extension to stay in Brooklyn? It would not make sense for the Nets to go down this path after having already gone down this path when they traded away all their draft picks to the Boston Celtics for Kevin Garnett, Paul Pierce, and Jason Terry. I do not believe that Sean Marks would be willing to have to risk their future again after he already just rebuilt the franchise from the bottom up.  The only way that Harden lands in Brooklyn is if a third team gets involved in the trade talks between the two. 
Philadelphia 76ers- The Sixers have one of the most attractive trade pieces in the league considering now that Shams Charania of The Athletic reported yesterday that Philadelphia has made Ben Simmons available in a trade offer for Harden. In addition, the Sixers have multiple draft picks that they can offer up. However, one of the issues that I think can hold this up are the Sixers' unwillingness to throw in Matisse Thybulle to a possible trade with the Rockets. Making Simmons available itself does not seal the deal for Philadelphia as Houston would likely want a lot more in return. The other cause for concern is I am not 100% sold that Rockets owner Tilman Fertitta would be willing to gift wrap a former MVP in James Harden to his former General Manager Daryl Morey who is now in Philadelphia considering that their relationship did not end on a bright note after he tweeted in support of freedom for Hong Kong last year. The only way that a deal would be done in my opinion is if the Sixers are the only team that is willing to offer the best package. 
The other thing to consider for the Sixers is: while Harden would be an upgrade since he can shoot (and Simmons can't), does it make sense to give up Simmons who is younger for Harden who only has two more years on his contract and has not said if he would be willing to sign a long-term extension in Philadelphia?
Milwaukee Bucks- While the Milwaukee Bucks are one of the teams on Harden's preferred list for a trade, the Bucks do not have the assets to get a deal done. This is mainly because Houston wants multiple draft picks in return and Milwaukee does not have any first round picks since they traded them to New Orleans for Jrue Holiday.
Miami Heat- The Miami Heat have the most attractive offer that could entice the Rockets for James Harden. Miami can build a package around Tyler Herro and Duncan Robinson. In addition, the Heat can throw in Precious Achiuwa, who was drafted last month at number twenty, but is really a top ten talent. If the Heat add those players into a possible offer, they can potentially get away with only giving up two picks and two pick swaps because of the amount of young talent they would be offering. 
The other thing to consider for Miami is that Pat Riley is 75 years old and just lost an NBA Finals to the Los Angeles Lakers team that he left, and to LeBron James who left him in Miami six years ago. Ultimately, Riley wants to get back to that stage and beat them this time. While they have the talent to get there, they would be giving up a lot of their young players, but adding James Harden could get them to match the Lakers level. The one thing the Heat must consider is that they have to make sure that Harden would have interest in staying in South Beach long-term. 
Denver Nuggets- The Denver Nuggets are a dark horse team that could enter the sweepstakes for James Harden. Denver also has a lot of young talent that they could offer including Michael Porter Jr, Bol Bol, RJ Hampton, Gary Harris, and Will Barton. This would allow them to keep Nikola Jokic and Jamal Murray if they would be willing to offer their draft picks in a possible deal that would be centered around Michael Porter Jr. It would also make sense for the Nuggets to pull the trigger on a deal like this considering that they are the third best team in the Western Conference after the Lakers and Clippers. If Denver were to add Harden, they would be able to push themselves over the top from being a young, inexperienced team to having a star veteran and can help them contend for a championship immediately. 
Ultimately, I believe that James Harden will begin the season with the Houston Rockets. However, I do not believe that he will last long in Houston as he has already voiced his displeasure of being there. The most important thing to remember, though, as the market unfolds is that the Rockets have the leverage and do not have to abide by his wish list of teams. As Woj and Ramona Shelburne of ESPN reported yesterday, Houston is expanding their trade discussions beyond his preferred destinations.